sometimes...
i forget about an english paper i have due until 6:00 the night before.
i sleep
in my missionary brothers old t-shirts.
i forget to set my alarm clock
on school days and miss math class.
i put off my outrageous stacks of homework
to write a blog post.
i cry when i realize my nieces & nephew will be moving
across the ocean in less than a week.
i am really awkward on dates
and fart at the front door, while he is still standing next to me.
i am asked by my roommate to change her facebook password
so she can't get distracted from her homework.
i dance in the car
, while driving and listening to michael jackson on the radio.
i forget how much i dislike the snow
until i'm driving through sardine canyon in the dark with snow coming at me from every angle.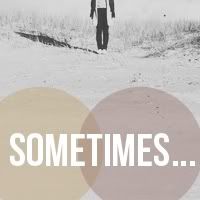 want to join in and do your own 'sometimes...' blog post? head on over here to pick up a bloggy button!